Bay Area Laser Hair Removal
At Illustra Dermatology, our Bay Area cosmetic dermatology team is devoted to aiding the preservation of your natural beauty and health. By combining the art and science of medicine, Dr. Adrianna Browne will provide an individualized skin care treatment plan for long-lasting, aesthetically pleasing results. In addition to comprehensive skin care treatment services, Illustra Dermatology provides cutting-edge laser hair removal services to all skin types. From fair to darker brown skin tones, our team can help. Hair removal by laser is an optimal way to achieve the appealing, long-lasting smooth feel and sleek look to areas with unwanted hair. 
Laser hair removal works by directing laser beams of concentrated light into the hair follicles to be removed. The hair is destroyed due to the pigment in the follicles absorbing the light. For this reason, laser hair removal does not work on blonde, red, white, or grey hairs. The number of laser hair removal treatments required for complete results is individualized depending on a person's hair and skin, along with the size of the area to be treated. The average number of treatments is about six to eight sessions, each approximately six to ten weeks apart. After each laser hair removal treatment at our Bay Area clinic, you will need cool compresses and moisturizers to soothe irritated skin. Over the following month, the treated hair will fall out.
Pre-treatment Recommendations:
You may shave the day before treatment.
Avoid use of self-tanners, waxing, plucking or tweezing the treatment area for at least 2-4 weeks prior to treatment.
Avoid anything that may irritate the skin for 1-2 weeks prior to treatment such as retinols/retinoids, depilatories, harsh chemicals, exfoliators, or topical acids (salicylic, lactic, glycolic, etc).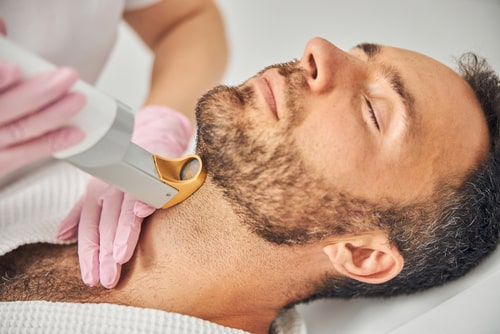 Cosmetic Consultation
Before your laser hair removal treatment, our experts in the Bay Area will provide a comprehensive cosmetic consultation including examination of your areas of concern and skin analysis, and will discuss a customized treatment plan and skin care regimen. A consultation is required for all new cosmetic patients. Your consultation fee will go toward any cosmetic services rendered the same day of your consultation. During your consultation, we will discuss pricing for your individualized treatment plan with discounted package options.
Free yourself from the hassle of everyday shaving maintenance, and make your consultation appointment with our laser hair removal experts in the Bay Area. If you would like to learn more about our cosmetic dermatology and our laser hair removal services or to schedule a consultation, contact Illustra Dermatology today!