Rejuvenate Your Skin With Illustra Dermatology's Chemical Peel Services
What is chemical peel and is it right for you? 
Chemical peels are resurfacing procedures used for skin rejuvenation. The chemical solution is an exfoliant applied to the face, hands, neck, and decolletage to remove damaged skin cells so healthier skin can be revealed. New, healthier skin can appear smoother, less wrinkled, and show less signs of sun damage. Though the process may seem daunting, when administered by experienced board-certified dermatologists, the procedure is perfectly safe. At Illustra Dermatology in the Bay Area, each client chemical peel is personally cared for by Dr. Adrianna Browne, a dermatologist certified by the American Board of Dermatology, who brings extensive experience, personal service, and a desire to exceed her clients' expectations and provide superior care for healthy, radiant skin. 
The following conditions can benefit from a chemical repair procedure provided by Illustra Dermatology's board-certified dermatologist, Dr. Browne:
Wrinkles and fine lines
Acne
Sun damage (photoaging or actinic keratoses)
Hyperpigmentation
Scars
Melasma (a skin condition characterized by brown or blue-gray patches or freckle-like spots, often associated with hormonal changes)
Uneven skin tone and texture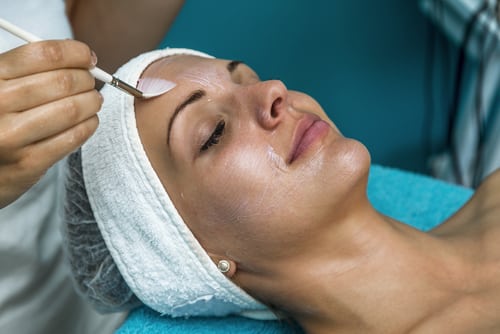 Illustra Dermatology's chemical peel treatment offered in the Bay Area exfoliates the top layer of the skin and can also be used to reduce age spots, treat the texture and color of the skin, heal acne, and reduce the appearance of large pores. Chemical peels range from light, medium, and deep, depending on the client's needs. At Illustra Dermatology, Dr. Browne helps each client decide which cosmetic dermatology treatment is right for them, then ensures they receive the personal, patient-centered healthcare experience they deserve. 
If acne, pigmentation, sun damage or other skin conditions are a concern, contact Dr. Browne and her staff at Illustra Dermatology in the Bay Area today to see if chemical peels for skin rejuvenation is the right solution for you!