Dermal Fillers
Illustra Dermatology is the premier location for aesthetic injectable treatments in the Bay Area. Because every individual has different aesthetic needs, we do not provide cookie-cutter results. Dr. Browne customizes an injectable plan for natural youthful appearance. Dermal Fillers contain hyaluronic acid derivatives used to correct wrinkles and lines caused by volume loss, lax skin, and bony structural changes. Other indications for dermal fillers include lip and cheek augmentation, HIV-associated lipoatrophy, acne scars, non-surgical "rhinoplasty", thin hands, and chin enhancement. Hyaluronic acid creates volume deep in the skin and is important in rebuilding tissue. These dermal fillers can last anywhere from 6 months to 2 years. In high movement areas such as the lips, fillers may break down more quickly and last less than 6 months. Dermal fillers used at Illustra Dermatology in the Bay Area include Belotero, Restylane products, and Juvéderm products. Trust Dr. Browne with your injectable treatments and dermal fillers for real results in the Bay Area!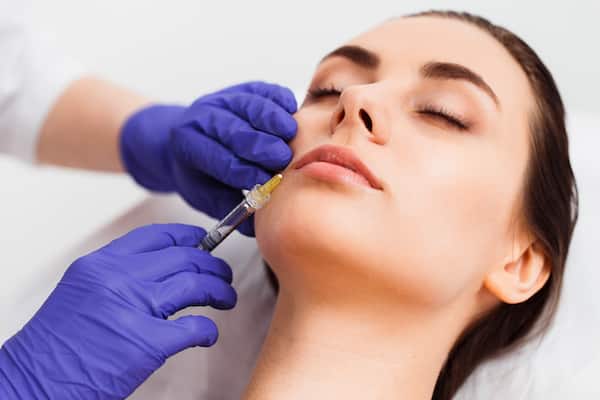 Dermal Fillers: What to Expect
Dr. Browne will use a very fine needle to inject a small amount of the filler into the appropriate sites. There is mild discomfort/pain. Fillers have lidocaine that will reduce discomfort. Some patients benefit from topical numbing applied 30 minutes prior to the injections. 
The treatment takes about 30-60 minutes depending on how many injections are necessary.
There is no recovery time. After the injectable treatment at our Bay Area clinic, you can simply get on with your day. Swelling from injections may occur and can last 2-3 days. 
There may be bruising, which will go away in 7-14 days. 
Short-Term Care
To reduce the risk of bruising, please stop taking aspirin, other anti-inflammatory or blood-thinning medications (ibuprofen, fish oil, Vitamin E, etc.) that are not medically necessary 10 days prior and 2 days following your dermal filler or injectable treatment in the Bay Area. Please discuss all medication changes with your prescribing doctor.
Please avoid alcohol consumption 24 hours pre and post filler injections.
Apply ice packs 3-4 times a day for 15 minutes to reduce swelling.
Do not touch or massage the treatment site. Please wait one week to resume facials or massage the face.
Long-Term Care
Return to Illustra Dermatology in 6 months to a year for filler assessment and possible follow-up injectable treatment at our Bay Area office. Dr. Adrianna Browne and the Illustra Dermatology staff welcome the chance to address your questions and concerns. We look forward to meeting with you at your cosmetic consultation.